A manually operated HDPE pipe fusion equipment from 90mm to 250mm OD,noraml type with 2 rings. Efficient design and construction provides an excellent low cost machine for welding both on the worksite and in the factory. Removable PTFE coated heating plate with separate temperature control system and electric planing tool. Be made of high quality Aluminium, lightweight,simple structure and easy operation
Normal type, One year warranty
Optional parts
Stub-end
Technical Data ofHdpe Pipe Welding Machine
| | |
| --- | --- |
| Model | DM250S |
| Applied Materials | PE、PP、PVDF |
| Fuse Range | 90mm-250mm |
| SDR | SDR9-SDR41 |
| Input Voltage | 230V10% 50/60Hz |
| Heater Temp. | 270℃(5℃) |
| Heater Power | 1.8KW |
| Facer Power | 1.3KW |
| Weight | 63KG |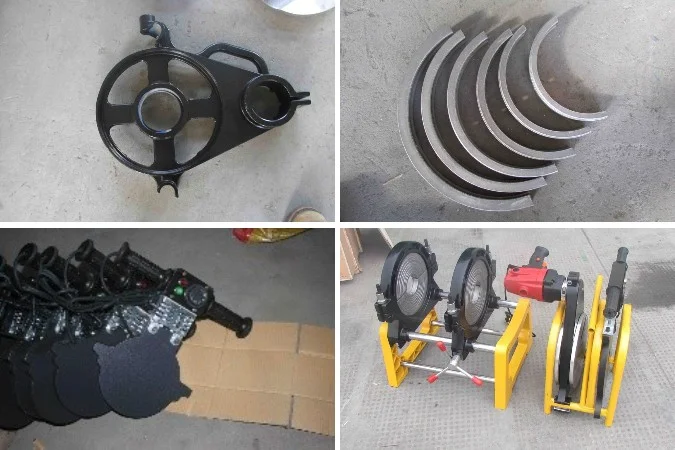 The hdpe pipe welding machine is a versatile and efficient tool that can be used for a variety of applications. It is easy to use and can be operated by one person. The hdpe pipe welding machine has a variety of features that make it an ideal choice for many different projects.
Features of hdpe pipe welding machine
-The ability to weld both horizontal and vertical seams
-An adjustable speed control that allows the user to control the speed of the welding process
-A safety switch that prevents the machine from accidentally turning on
-A power indicator light that lets the user know when the machine is turned on
-An automatic shut-off feature that turns the machine off when not in use
Advantages of hdpe pipe welding machine
1. HDPE pipes are less likely to corrode or break down over time, making them a more reliable and longer-lasting option than other types of pipes.
2. HDPE pipe welding machines offer a quicker and more efficient way to weld HDPE pipes together, meaning that projects can be completed faster and with less disruption.
3. HDPE pipe welding machines provide a high degree of accuracy and consistency when joining HDPE pipes together, ensuring that joints are strong and leak-free.
Hdpe pipe welding machine supplier - DSL
DSL FUSION TECHNOLOGYis a key player in the field of supplyingpoly pipe welding machinefor 8 years. DSL will build one stop solution for full range of plastic pipe fusion equipments, we have advanced equipment, skilled workers, and superb technology to process products, and the production capacity of us is very strong, which can produce 50,000 machines a year, and has a special quality inspection department, as well as painting, die-casting, assembly, and melting workshops.
Related products about hdpe pipe welding machine
Butt Fusion Welding Machine DM160D(Manual)
HDPE Butt Fusion Welding Machine DM160S(Manual)