Filed butt welding machine with hydraulic operation ,fuse range is 90-250mm for standard model.Incerts made of casting aluminum.Low starting pressure ensures welding projects quality for small pipe.The whole machine made by heating plate,facer,hydraulic station,machine frame and basket.Electric timer meter of 2 channel record cooling and soaking phases with time alarm.Heating temperature display on electronic meter as well.More easy and convenient for operating.Customrized butt fusion machine is also available,especially change the design,color or other special need,like accumulator…..
Hydraulic butt fusion machine,one year warranty
Optional Parts:
stub-end
Hdpe pipe butt fusion machine detail display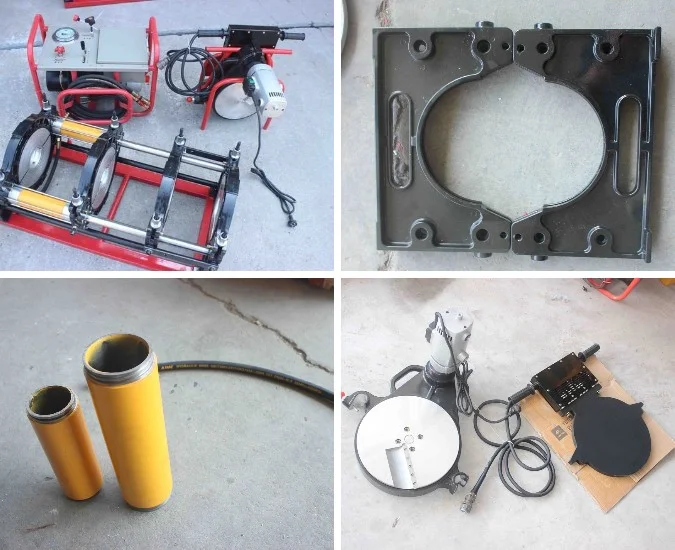 A hydraulic hdpe pipe butt fusion machine is a device that is used to weld two pieces of HDPE pipe together. The principle behind the machine is simple: two pieces of pipe are placed in the jaws of the machine and then clamped together. A powerful hydraulic ram then applies pressure to the pipes, causing them to fuse together.
The main advantage of using a hydraulic hdpe pipe butt fusion machine is that it can create a very strong weld between two pieces of pipe. This is because the pressure that is applied by the machine is much greater than that which can be achieved by hand. As a result, the weld will be stronger and less likely to fail.
Another advantage of using this type of machine is that it can be used on a variety of different sizes of pipe. This means that it can be used for both small and large projects. Additionally, the machine can be used on both straight and curved pieces of pipe, making it very versatile.
The working principle, characteristics and application range of hydraulic hdpe pipe butt fusion machines make them an essential piece of equipment for anyone who needs to weld HDPE pipes together. Whether you are working on a small or large project, these machines can provide you with a strong and reliable weld.
Hdpe pipe butt fusion machine supplier - DSL
DSL FUSION TECHNOLOGY is a key player in the field of supplying pipe butt fusion machine for 8 years. DSL will build one stop solution for full range of plastic pipe fusion equipments, we have advanced equipment, skilled workers, and superb technology to process products, and the production capacity of us is very strong, which can produce 50,000 machines a year, and has a special quality inspection department, as well as painting, die-casting, assembly, and melting workshops.
Related Products about Hdpe Pipe Butt Fusion Machine
Hydraulic HDPE Machine DH315(Hydraulic)